It is well reported that the mental health of employees is one, if not the, top reason for absence in the UK. Of the 1.8 million British workers who suffered from work-related ill-health last year, a massive 51% of these new and long-standing cases were due to anxiety, depression and stress.
This is just what is reported, but as there is still a stigma attached to suffering with poor mental health, some employees may have given a different reason for their absence to their employer. Also, mental health issues can cause presenteeism, with people at work but with low productivity.
Poor mental health can impact other aspects of an employee's wellbeing as the four core pillars of wellbeing (emotional, physical, financial and social) are all so intrinsically linked.
Employers are aware of this. In recent research released by Towergate Health & Protection it was revealed that among companies of all sizes across the UK, 54% stated that of the four pillars of health and wellbeing, the mental health of their staff is the area about which they are now most concerned.
Areas where employers are more concerned about their employees:
Mental health 54%
Financial health 48%
Physical health 34%
Social health 29%
None of the above 11%
What can employers do to support their employees?
There are a vast range of services and products available to support the mental health of employees and promote resilient emotional wellbeing.
Education and webinars
It is important to raise awareness of some of the signs that mental health could be sliding down the continuum to poor emotional wellbeing, and to highlight some of the associated conditions and symptoms – e.g. burnout, imposter syndrome, anxiety. This can be done via webinars, presentations, access to information and case studies. However, it is becoming evident that employees are looking for companies to move from raising awareness to action.
Emotional support helplines/employee assistance programmes
These can sometimes be an integral part of a product proposition (private medical insurance, group life, cash plan or group income protection) or bought as a standalone service from specialist providers. These enable employees (and often their family and sometimes their friends as well) to access emotional support through counselling, on-line CBT or similar. They are usually low cost and help provide immediate access to help at the point of 'crisis' for an individual. Other propositions, such as Halo from Healthcare RM, look more holistically using biosocial concepts and working longer term to support the person to build their own resilience.
Private medical insurance with mental health support included
Through these policies employers can often offer clinical out-patient and in-patient mental health support from psychiatrists and psychologists – on top of any added-value mental health support services the insurance may offer as part of its wider proposition.
Virtual GP services
An increasingly common issue reported by employees is gaining access to primary care and this includes GP appointments. These can take weeks for non-urgent and sometimes even urgent situations, which may either include mental health or be impacting an employee's emotional wellbeing. Having access to a virtual GP service can mean much more immediate initial support and signposting is gained.
Health risk assessments
These allow an individual to see their top health risks, which could include their emotional wellbeing and state of mental health, and some focus specifically on this aspect of an employee's wellbeing. Within a large enough workforce, they can also provide the company with a report to highlight their top people risks. This enables employers to be more strategic in their approach and ensure any support they provide is targeted, driving better outcomes for both the individual and the business.
Communicate it well and regularly
An employer could offer the best support possible but if their employees do not know about it then it is worthless. It is therefore essential that employers communicate the offered support regularly and well.
Bite-size chunks of information, different media, case studies and real-life examples seem to resonate particularly well with employees. Hearing the employee voice and gaining feedback via surveys, forums, focus groups etc means an employer does not need to make assumptions about how they would prefer the company to communicate with them.
Using different types of communication will engage all personality types and learning styles, and by doing it regularly employers will ensure the message lands when it is of interest to a person.
Accessible
Linking with people needing to know about the support the company is providing, is the need for employees to be able to easily access it. This could be knowing where to find information or actually obtaining the support.
With more disparate workforces due to an increase in working from home or hybrid working, an employer must ensure all employees have the same access opportunities. So can support be accessed through an employee's personal mobile, as not everyone has access to a work computer or email address? These are things that must be considered.
Many employers find that a wellbeing platform can be a great help. It can overlay benefits and support communication. This creates a very engaging and accessible means of accessing all support in one place, regardless of your place of work.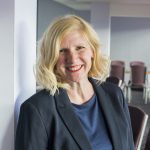 Debra is the head of specialist consulting at Towergate Health & Protection. Debra has been in the employee benefits industry for over 25 years now working in a number of specialist intermediaries and roles. Debra is passionate about mental health and all forms of wellbeing particularly in the workplace, as she strongly believes people are any businesses best asset and they can ensure the success of a company if they are well.