A great place to work is one that ensures its employees are motivated and remain safe and productive all year round with a clear sense of belonging and purpose. To succeed in building a positive culture, businesses need to understand the value of diversity and be willing and able to prioritise employee development and growth.
For well over ten years, we've (DHL) had a "People First" business strategy and we've maintained that approach during even the most challenging times. As a result, we have been named the number one best workplace worldwide in the annual list published by Great Place to Work™ for two consecutive years . Here we take a look at what really makes a company a great place to work and the different steps that business leaders can take to ensure their own motivated employees.
Using purpose as a motivating force
People see purpose as a way of bringing meaning to their work, and employees need to find this meaning in order to be fully engaged with the business, its goals and plans for the future. Reminding employees of the business purpose and the contribution they make in fulfilling it, will be a strong motivating factor and remind people why they wanted to work for the company in the first place. Purpose has always been critical to people and business, but the disruption of the last couple of years has really magnified its importance. Through the pandemic, we have been reminded of what is important and having meaningful work is high up on the list.
Our mission and purpose of "Connecting people and Improving Lives" is the reason we do what we do. That sense of community and purpose is at the heart of our business, with programs like Go Help, Go Teach, Go Green and the award-winning DHL's Got Heart bringing positive change where it's needed most. We're proud to make a contribution that is both an intrinsic part of our jobs and that also goes beyond.
Creating a positive company culture
In the aftermath of the Covid-19 pandemic and with economic pressures, it is a good time to evaluate your businesses' culture and whether it can be maintained under challenging conditions. To create a positive company culture, it's important that you identify your organisation's core values and that your employees feel valued as they continue to show their commitment to you and your business.
One way to do this is by listening to the feedback and experiences of your employees. Our people offer fresh thinking every day and encouraging a culture that embraces their feedback and insights means we can continuously innovate with new ideas and suggestions that drive our business forward. Responding to the needs of your people, customers and communities, and adopting new solutions that drive better experiences will enable you to stay ahead of the game.
Our people are our top priority and we are proud to contribute to the motivation of our colleagues and to create an environment where everyone can bring their authentic self, feel valued and belong.
Focusing on wellbeing
As an employer it's helpful to look at the holistic role you play in the lives of your people – this will help determine areas where you have particular responsibility for wellbeing, as well as the areas in which you can positively enhance employees' lives.
Over the coming months, we're rolling out digital wellbeing and health tools, improving nutritional standards in our food offer and redesigning workplaces to improve mental and physical health. When these formal programmes are coupled with the ongoing organic ideas sparked and spread by teams and individuals, we hope to have employee wellbeing fully baked into our company culture.
Committing to employee development and growth

We believe every one of our people has the potential to grow and succeed – without limits. That's why, whatever support they might need to unlock that potential, we make sure they can receive it. The Certified International Specialist program is a culture change programme aimed at driving development at all levels from induction to leadership and cross functional. Our global network gives our people access to the world – with plentiful opportunities for international development. We help people find their sense of purpose through enabling them to realise their potential.
But for people to succeed, they also need great leaders. We believe in the power of people first, forward thinking 21st Century Managers. We heavily invest in our supervisors and managers, coaching them to lead with 'Head, Heart and Guts' and we have an open feedback culture – reliant on trust. Because when you treat people the right way – with respect – they feel valued, cared for, and motivated. And motivated people, deliver great service quality, which creates loyal customers and drives a profitable business.
Striving for diversity, equity, inclusion, and belonging
A diverse workplace is critical to being a successful business with a fair and equitable work culture, and it is more than policies and programmes. it is about acknowledging the individual strengths of every single employee, their potential, respecting individual perspectives, and making sure every person feels included and has a sense of belonging. By focusing on doing these things, workplaces can earn greater trust and commitment from their people.
We are committed to being a great place to work for all and believe in the power of diversity to drive our business forward. Being an inclusive employer with a complex, international workforce enables us to thrive through diverse perspectives and experiences, which drive innovation and better decisions. Our DHL4ALL program ensures that employees are not just treated fairly, but are empowered and supported to succeed.
Conclusion
Over the last two years our people have, more than ever before, supported the business and each other. By staying connected with one another across countries and continents we've leveraged the strength of our network and continued to deliver as one. As we head into new challenging times, it will be more important than ever to take a step back and look at how you work with your employees on both a long-term and day-to-day basis. Together, business leaders should continue to strive for improvement, sharing ideas, and invest in creating the best possible workplaces for our people.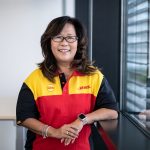 Fadzlun Sapandi has been with DHL for 18+ years and held various leadership roles with the purpose of connecting people, and improving lives to create a better workplace for all. Throughout her career, Fadzlun has demonstrated the ability to 're-invent' herself, starting in customer service and currently leading the global HR organisation for DHL Express. She aims to ensure an outstanding employee experience for more than 110 000 employees globally and a culture where people can thrive. Being part of the most international company, Fadzlun has gained a breadth of international experience across the Americas, Asia, and Europe.