The International Day of Happiness 2023 is fast approaching on the 20th of March 2023!
This wonderful campaign was first established by the United Nations General Assembly in 2012 to recognise the importance of happiness and well-being as universal goals and aspirations in the lives of people around the world.
The purpose of the International Day of Happiness is to promote the idea that the pursuit of happiness is a fundamental human goal and to encourage individuals, organisations, and governments to take concrete steps to promote happiness in their societies.
The day aims to raise awareness about the importance of happiness and well-being and to promote activities and initiatives that contribute to greater happiness and well-being for people worldwide.
The International Day of Happiness is based on the recognition that happiness is not only a personal matter but also a social and economic one. The pursuit of happiness is therefore seen as an important aspect of sustainable development, and the day serves as a reminder of the need to create more equitable and sustainable societies that foster the well-being of all people.
Following the years of pandemic isolation, the theme for this years campaign is make it a point to be social!
Spread happiness: Share positive and inspiring messages on social media using the hashtag #InternationalDayOfHappiness. You can also send messages of kindness and appreciation to your loved ones and friends.
Volunteer: Volunteer your time and resources to a local charity or organisation that promotes happiness and well-being in your community.
Practice self-care: Take some time for yourself to engage in activities that make you happy, such as reading a book, listening to music, or spending time with loved ones.
Participate in events: Attend or organise an event in your community that promotes happiness and well-being, such as a mindfulness meditation workshop or a community service project.
Support the Sustainable Development Goals: The International Day of Happiness is closely linked to the United Nations' Sustainable Development Goals, which aim to create a more equitable and sustainable world. You can support these goals by taking action in your own life, supporting organisations that work towards these goals, and advocating for policies that promote happiness and well-being for all.
By getting involved with the International Day of Happiness, you can contribute to a global movement that is working towards creating a happier and more sustainable world.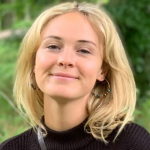 Joanne is the editor for Workplace Wellbeing Professional and Family History Zone. After obtaining a bachelors degree in English literature and media studies, Joanne went on to spend two years of her life writing and teaching English in China and Vietnam. Prior to joining Black and White Trading, Joanne was a marketing coordinator for luxury property in Brighton focusing on blog writing, photography and video creation.